Five key technology solutions to reopen hotels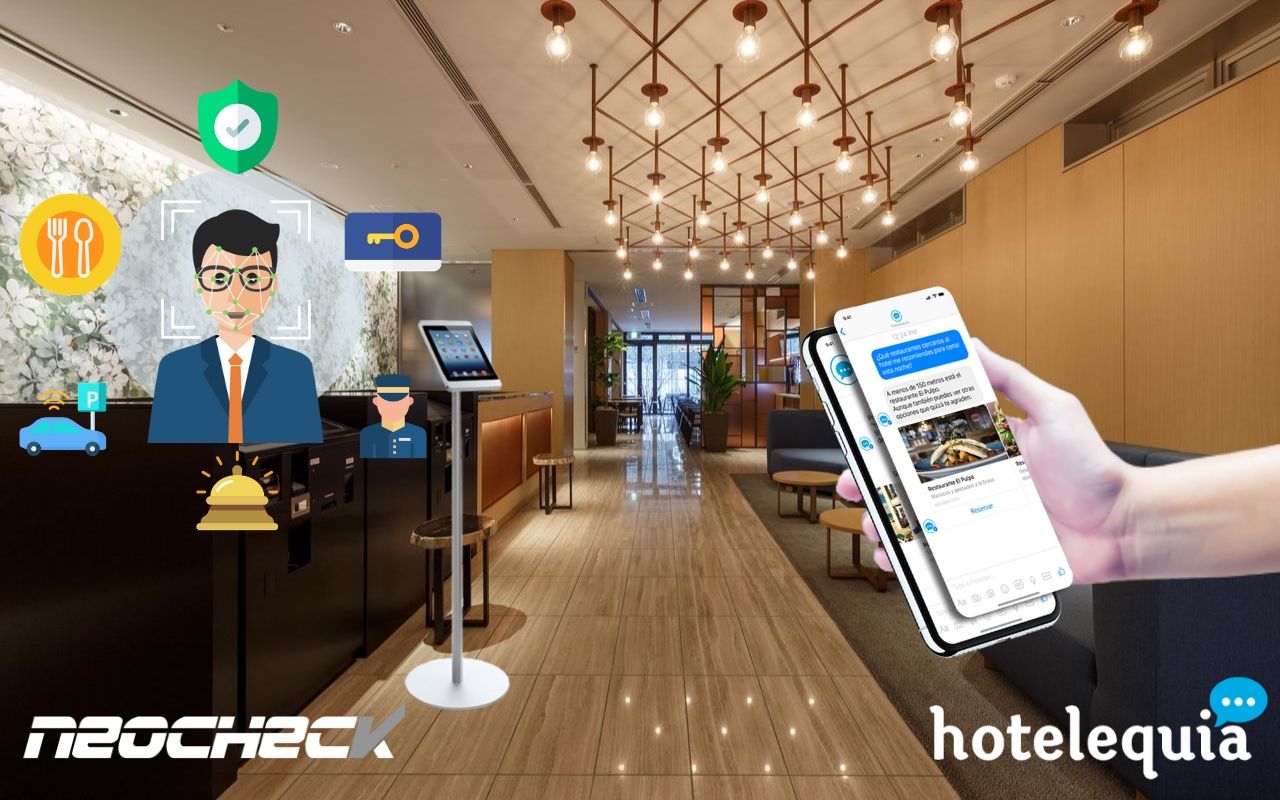 Since the Covid-19 health crisis began, we all have suffered the impact on our lives. More and more companies are working to create solutions able to mitigate this crisis in different sectors.That is the case of Hotelequia and NeoCheck, that have decided to join forces to help normalize the situation in the hotel sector offering the five key technology solutions to reopen hotels.
As we all know, the current imbalance has had a particularly strong impact on one of the basic pillars of the Spanish economy, hospitality and tourism. Hotels are being forced to face a new reality that requires distancing measures for which no company was prepared. But, how can our hotels safely reopen for clients and employees? And more importantly, is there any way to get out of this situation reinforced? NeoCheck and Hotelequia's experts  in technological solutions affirm so.
"The key is social distance", says Carmen Martín, CEO of Hotelequia, "Luckily, there are multitude of easy-to-implement solutions that can help maintain excellence in services, without giving up this safe distance. As for example our chatbot or online check-in solutions ".
Both companies summarize the 5 key solutions that hotels must implement to maintain security during the Coronavirus:
1º Chatbots
The current uncertainty makes customers have more doubts than ever when making a reservation. The chatbot on the hotel's website or application guarantees direct communication between the hotel and the client, at any moment and from any device. So that nothing stands in the way of the reservation process.
2º Online Check-in
What would be more comfortable and safe for the client and their employees, to check-in in person at the reception or to do so from their mobile phones or from their computers before arriving at the hotel? With online check-in, the client provides all the documentation that the hotel needs in a few seconds, just by taking a couple of pictures of their identity document. If they also make a capture of their face, the reception could be made by Tablet, that recognize the facial features of the client. In seconds the device would be able to Wellcome the host with their name,  assign their favorite room and deliver the key.
3º Access Control by Facial Recognition
There is nothing more secure and comfortable than biometric technology. Give your clients access to everything your hotel has to offer only with his/her face, with the latest facial recognition technology. The key to access their room, restaurant areas, parking, swimming pool or spa in their own faces. Also the best instrument to guaranteeing the recommended occupation of every area at all times. A technology capable of verifying the identity of the client, measuring their body temperature and guaranteeing non-crowding in common areas. All automatically, 100% touchess and without risk of contagion.
4º Mobile key
As we all know, objects also pose a risk of contagion. For that reason, cash exchanges in commercial premises have been reduced. In the case of hotels, room keys can also pose an easy risk to avoid, thanks to the systems for carrying the key on the mobile phone.
5º Domotics in hotel rooms
Energy efficiency and responsible use of all services available in the room is one of the solutions most highly valued by our clients. Not only because of the cost savings it represents (around 40%), but also because of the social responsibility that is transmitted to the guest and that directly impacts their experience with the hotel.
"The first hotels that have incorporated these measures have become a benchmark in technology and prevention", in the words of Héctor Insausti, COO of NeoCheck, "this crisis forces us to invest in a new form of hospitality, but these advances lead us to be better, always thinking about customer experience and increasing their satisfaction, recommendation and loyalty rates".
Contact us in the form below and we will help you find a personalized solution for your case.
Find out what can we do for you
In NeoCheck® we strive to satisfy all the needs of our customers in terms of Document Verification and Biometric Identification. From web-based solutions, mobile applications to specialized components (we have our own research and development team). And of course, we try to deploy the most advanced and flexible technology at affordable prices, as well as providing them with the best support. Therefore, we regularly organize online courses and workshops related to the world we know best: Document and ID Verification.